Over 30 Years of Experience!
Visually matching colors can be tricky, even under the best circumstances. For advanced color matching, we use the Acquire Quantum EFX from Axalta, which is a spectrometer that checks for multiple dimensions of color. It is the most powerful, most effective color matching tool available today. This valuable tool not only reads the color, but it assists us with determining the correct flake characteristics to ensure the best possible match to your finish.
How the Spectrophotometer works
To obtain a digital reading, the spectrophotometer is placed on the vehicle near the damaged area, where the device measures color and effect characteristics at multiple angles. This technology enables us to acquire the color characteristics to determine the best color match for your automobile using advanced optics. The process with give your vehicle a more true factory appearance by using our computerized multi-color matching technique.
In addition to the spectrometer, we also have Axalta's exclusive hand held lighting system, known as Speed Light. This technology offers clean, pure white light that is ideal for checking color match and flake coarseness. Speed Light utilizes the latest LED technology, with optimal lighting conditions at every stage of the repair process for matching colors and detecting imperfections. At Allen Auto Body we are proud to offer digital color matching to Oklahoma City, NW Oklahoma City and the surrounding metro areas.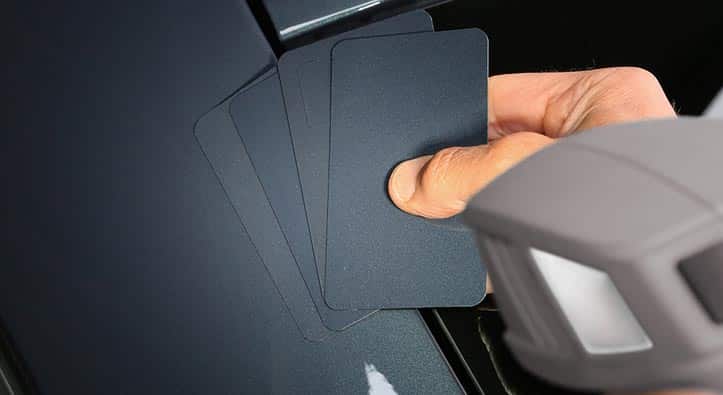 Q | How do you know what color to use when you paint a panel on my vehicle?
A | Every vehicle has a paint code. This code, along with our color matching tools, we are able to determine the formula necessary to achieve the best possible match.
Q | When you repair my vehicle, will my paint have a warranty?
A | Yes! At Allen Auto Body, we provide a limited lifetime warranty for as long as you own the vehicle.
Q | How long should I wait to wash my car?
A | When you pick up your vehicle from Allen Auto Body, it has already received a hand wash. When your new finish becomes dirty, washing under normal conditions is fine. More information about care of your new paint will be discussed with you during the delivery process.